"Museum-quality collectibles for the discriminating collector"
The following are the current offerings of unique or extremely limited collectibles available for sale on a first come first serve basis. All items are subject to prior sale and once sold out, will no longer be available. They are indeed toy train paper treasures!
---
Stock Certificate Issued to
Joshua Lionel Cowen
The certificate offered documents one of the most important aspects in the fascinating history of The Lionel Corporation. This certificate was actually issued to Joshua Lionel Cowen, inventor of the Lionel Electric Train, and remained his property until he sold his full interest in Lionel in 1959.

Founded in 1900 by Joshua L. Cowen, Lionel was registered as a Corporation in 1937 under the laws of the State of New York. The company, although publicly traded, was significantly owned and operated by Joshua and his son, Lawrence. As a father and son team, they guided the company through what is considered to be the "Golden Era" of collectible toy trains, the postwar era of the late 1940's and through the decade of the Fifties. It must have been with great pain that Joshua and his wife, Lillian, made the decision to sell their interest in the company whose name was synonymous with toy trains, and whose brand image was recognized by 70% of all Americans during the era.
In late September 1959, Joshua Lionel Cowen made the decision to sell his shares in Lionel to an investment group headed by Roy M. Cohn, a New York lawyer best known for his active role as counsel to Senator Joseph McCarthy in the early 1950's and financier David Chase. This stock certificate was one of very few that was redeemed as part of the transaction executed on September 30, 1959. The certificate available was issued to the David Chase syndicate.

The price for this piece is $125.00 plus $7.00 insured shipping.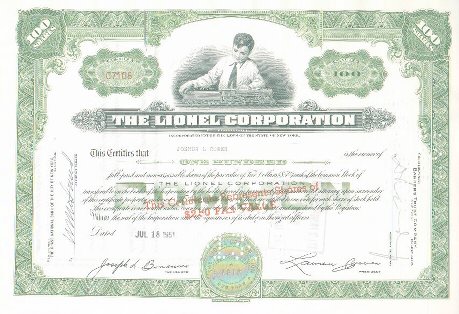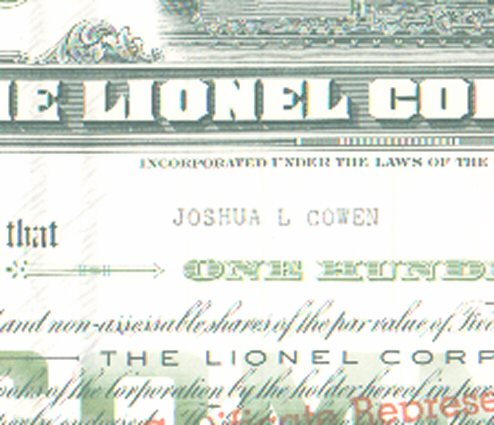 Each certificate will include a color brochure providing additional provenance behind the stock's issuance, including photographs of documents supporting the final sale of The Lionel Corporation.
A matching certificate issued to Lillian Cowen, Joshua's wife, is also available. Please inquire.
---
Watch for Future Showcase Offerings at trainpaper.com!
---